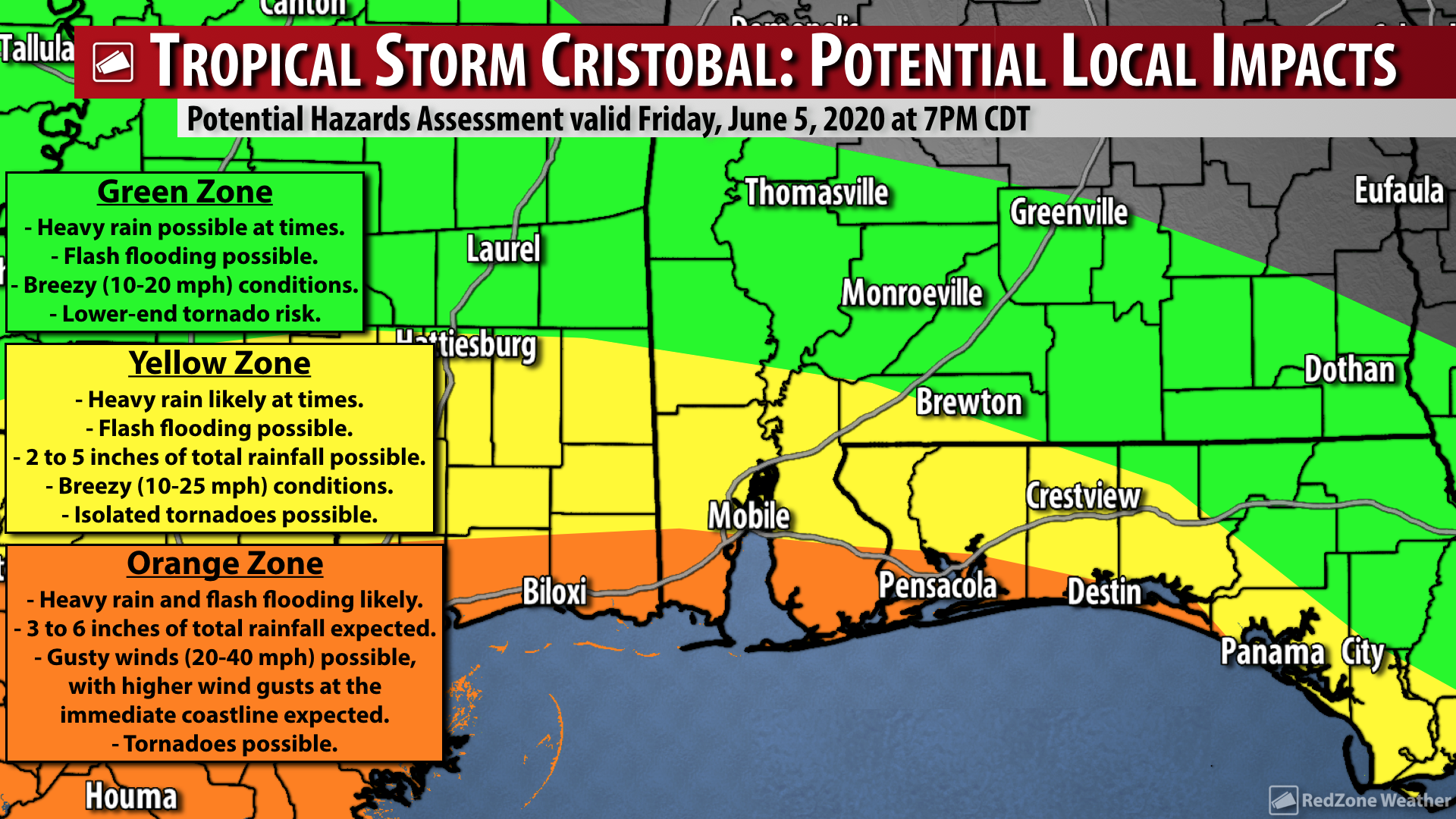 RZW EXEC: FRIDAY AFTERNOON TROPICAL STORM CRISTOBAL UDPATE… Cristobal is a tropical storm again as it moves north near the western coast of the Yucatan Peninsula on this Friday evening. Expected local impacts from Tropical Storm Cristobal across south Alabama and northwest Florida have not changed that much. Here are the talking points of the minor forecast changes:
1) Tweaked tornado risk to be a bit higher on Sunday evening into early Monday as the core of Cristobal makes landfall to our west.
2) New – Tropical Storm Watch for Alabama coastline and points west into MS and LA.
3) Added emphasis of potential for minor coastal flooding at the Alabama and NW Florida beach zones.
4) Added detailed information about the new Storm Surge Watches in effect to our east and to our west.
5) Re-emphasis on main potential hazard being heavy rain and flash flooding.
Below is the highly detailed post that will debut later this evening. As always, please let me know if you have any specific needs concerning decision support for your business or organization.
HIGHLY DETAILED POST: LOCAL IMPACTS FROM CRISTOBAL EXPECTED SUNDAY P.M. INTO MONDAY… Brief tornadoes, gusty winds at the coast, and heavy rain are expected on Sunday into Monday as the core of Tropical Storm Cristobal likely passes our area to the west. Most of the impacts will on the eastern side of this tropical storm, meaning our area will be in the zone where impacts happen. Heavy rain and flash flooding remain the biggest concerns, but chances have increased that a few tornadoes may happen on Sunday into Monday. Gusty winds, large waves, and dangerous rip currents will be concerns at the immediate beach and coastal zones. The National Hurricane Center issued a Tropical Storm Watch for all of the Alabama coastline, extending westward to Intracoastal City, Louisiana earlier today. That means if you are in any part of Baldwin or Mobile counties south of Interstate 10, you're now under a Tropical Storm Watch. We have quite a list of updates below, with specifics on potential local impacts in south Alabama and northwest Florida…
1PM ADVISORY – TROPICAL STORM CRISTOBAL… Cristobal re-strengthened, as expected, into a tropical storm as of the 1PM Friday advisory. The center of circulation remains over the northwestern corner of the Yucatan Peninsula. Eastern Mexico has been drenched with heavy rain and numerous flash flooding issues over the last few days. These issues will slowly begin to subside as the center of Cristobal moves north tonight into Saturday morning. The storm is now moving at 12 miles per hour to the north, which is a significant increase in forward speed. Now that Cristobal is moving, it is expected to reach the central Gulf by Saturday evening. Landfall in Louisiana (more on that below) is expected Sunday evening.
IMPACTS: OVERALL LOCAL ASSESSMENT – CRISTOBAL… Overall, our messaging on potential local impacts in south Alabama and northwest Florida has not changed that much. This is a good indicator that forecast confidence is now very high. The most significant issue from Cristobal locally will be heavy rain and the potential for flash flooding. The flash flooding risk will be greatest across the southern half of our local area, aka in coastal counties. Heavier rain may start as early as Saturday evening and continue in multiple rounds through Tuesday. Gusty winds of 20-30 mph sustained winds are expected near the coast. Coastal flooding, rip currents, and large waves are all concerns at all Alabama and northwest Florida beaches.
IMPACTS: BRIEF TORNADOES POSSIBLE… The eastern side of Cristobal will be the side that affects our local area in south Alabama and northwest Florida. This means we will be on the side of the storm where the flow is out of the south, around the large counter-clockwise circulation. Due to this, we could have a few spin-up tornadoes. The greatest tornado risk locally will be Sunday P.M. into Monday A.M. If there is one thing I've learned about tropical cyclones affecting our local area over the last few years, it is that we should expect spin-up tornadoes. I would not be shocked if a few brief tornadoes happen locally before AND after the timeframe mentioned. What that means for you is that we all need to have a way to get tornado warnings from Sunday morning through Tuesday morning, including all of Sunday and all of Monday. I realize that is a long timeframe, but it is better to be prepared and know that there is a possibility of a few tornadoes than to not be aware at all. Keep in mind that most tropical-induced tornadoes are brief and do not last long, but as always, if a tornado affects YOU, it's a big deal. Have a way to get the warnings!
IMPACTS: GUSTY WINDS NEAR THE COAST… Cristobal likely will not be a memorable tropical storm because of widespread wind damage. Could there be isolated wind damage? Maybe, but the overall trend supports Cristobal being more of a heavy rainmaker with flash flooding being the main concern. The National Hurricane Center has included the southern halves of Baldwin County and Mobile County in southwest Alabama in a Tropical Storm Watch, where winds may gust up to 40-50 mph at times. Most of the winds near the coast probably won't be that strong, but there could be brief gusts up to those levels. Breezy (10-20 mph) conditions are expected across northwest Florida and inland areas of south Alabama with no major wind impacts expected.
IMPACTS: HEAVY RAIN & FLASH FLOODING… If there is one potential impact that gives me quite a bit of concern with Cristobal, it is the potential for heavy rain and flash flooding across our region. Clearly the greatest risk of flash flooding will set up across coastal counties. This means if you're in any part of Baldwin, Mobile, Escambia (FL), Santa Rosa, Okaloosa, or Walton counties, you may pick up 4-6" of rain in total with this event. The ongoing drought will likely be alleviated or eliminated, but because the ground has been so parched in many cases, the soil absorption rate won't be very high. This could exacerbate flash flooding as we go into Sunday and Monday.
IMPACTS: COASTAL FLOODING, STORM SURGE, RIP CURRENTS, LARGE WAVES… It seems like every, single time we have any type of tropical system around here, we get several boneheads that insist on getting into the water at local beaches and ignoring the red flags. It cannot be stressed enough: Please don't risk your life by getting out in the water during a tropical storm. As I've said in past storms, this is common sense to 99.9% of people, but there are some folks who defy the recommendations. Rip currents will be numerous and waves will be large. Please don't get in the water from Sunday through Tuesday morning. I *love* the beach as much as anyone (and I especially love being in the water!) but it just isn't a good idea this weekend into next week. Coastal flooding is possible along Alabama and northwest Florida coast with inundation of 2 to 3 feet Sunday through Monday afternoon, especially around the time of high tide.
CRISTOBAL TO MOVE NORTH TONIGHT, SATURDAY, INTO SUNDAY… Cristobal has started its trek northward and will emerge over the warm waters of the southern Gulf tonight from the Yucatan Peninsula. Modest strengthening is expected as the system crosses the Gulf and moves toward Louisiana. One limiting factor that will likely prohibit rapid strengthening is an increasing amount of southwesterly shear over the system on Saturday into Sunday. Another factor that will likely keep Cristobal in check will be a large amount of drier air on the western side of the circulation that will likely be wrapped into the system before landfall on Sunday evening. NHC suggests the system will be a tropical storm packing maximum sustained winds of 60 mph at the time of landfall. Obviously there is an off chance Cristobal briefly becomes a hurricane before landfall, but that should be considered an outlier scenario as of now.
LANDFALL IS EXPECTED IN LOUISIANA… Confidence is now high that the center of Tropical Storm Cristobal will make landfall in Louisiana, probably on Sunday evening or perhaps very early in the morning hours of Monday (before 6AM). Keep in mind that impacts WILL extend well beyond (and mostly well EAST) of the landfall point. Once the storm makes landfall, it is expected to move north or northwest toward central Louisiana, western Mississippi, and Arkansas into early next week.
TROPICAL STORM WATCH FOR ALABAMA BEACHES & POINTS WEST… The National Hurricane Center has issued a Tropical Storm Watch valid until further notice from the Alabama-Florida border (at the FloraBama) westward to Intracoastal City, Louisiana. This includes Lake Pontchartrain and Lake Maurepas. All bays and inlets for this stretch of coastline are also included, including Mobile Bay and the Mississippi Sound. A Tropical Storm Watch means tropical storm conditions (including wind gusts in excess of 39 mph) are possible in the watch area within the next 48 hours.
STORM SURGE WATCH TO OUR EAST AND TO OUR WEST… NHC has also posted a Storm Surge Watch to our east and to our west. This Storm Surge Watch is in effect for these areas and not in effect for our local area due to the geography and slants of the coastlines in relation to where the center of Cristobal is expected to move onshore. There is a Storm Surge Watch in effect from Indian Pass, FL southward to Arepika, FL. There is a separate Storm Surge Watch in effect from Grand Isle, LA eastward to Ocean Springs, MS. Lake Borgne is also involved. A Storm Surge Watch means there is a possibility of potentially life-threatening inundation at the immediate coast, from rising water moving inland from the coastline, in the indicated locations during the next 48 hours.
FLASH FLOOD WATCH LIKELY TO BE ISSUED SOON… There will likely be a Flash Flood Watch needed for coastal counties (at a minimum) valid for Sunday into Monday. NWS Mobile has not posted that yet, but I expect a Flash Flood Watch to be issued soon. 3 to 6 inches of rainfall in total is expected locally with greater rain amounts near the coast.
RAIN TO LINGER INTO MIDDLE PART OF NEXT WEEK… Even after the center of Tropical Storm Cristobal makes landfall on Sunday into early Monday to our west, the flow out of the south will keep our area in a zone where moisture is abundant and supportive of numerous showers and thunderstorms on Tuesday into Wednesday of the upcoming week. We should finally get a break from the rain as we approach Friday of the upcoming week.
APP… Many updates will be posted throughout the weekend in the RedZone Weather app. redzoneweather.com/app is the link for the free download. Be sure to visit the Alerts tab (bottom right corner) and tap the large, yellow "Alert Settings" button to customize the alerts you'd like to receive from me. If you like a lot of info, be sure to toggle ON Low-Level Alerts.