RZW EXEC: LOW-END TORNADO RISK OVERNIGHT INTO THURSDAY… RZW Exec partners, good Wednesday evening! We have a developing, yet low-end, risk of a few tornadoes setting up for the overnight hours into Thursday as the remnant circulation of former Tropical Storm Beta continues to approach Alabama from the west. The concern is that a few strong to severe thunderstorms could briefly ramp up to the point of producing a tornado or two on Thursday, mainly in the morning and early afternoon hours. The entirety of south Alabama and northwest Florida is involved in this low-end tornado risk. We will go into long form tornado warning coverage if any warnings are required for our local area. Please let me know if you have any questions or decision support needs. Our public messaging concerning this event are below. Have a great Wednesday!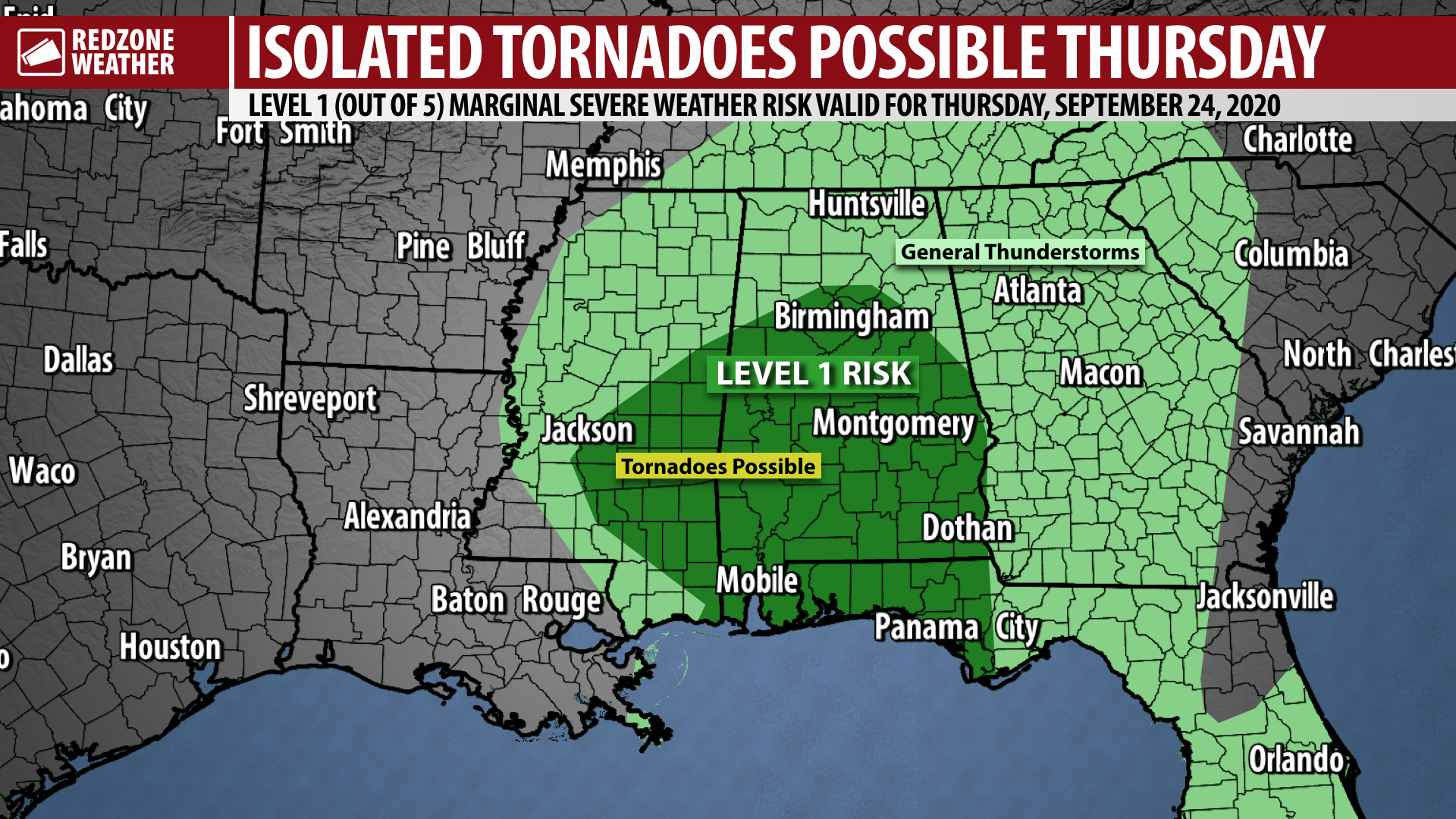 FEW, BRIEF TORNADOES POSSIBLE OVERNIGHT INTO THURSDAY… The Storm Prediction Center has included ALL of south Alabama and northwest Florida in their low-end, Level 1 (out of 5) risk for a few tropical tornadoes overnight into Thursday as the remnants of Tropical Storm Beta pass to our northwest. While tropical-related tornadoes generally are weak and brief, they sometimes can knock down trees, damage roofs, and cause other damage. The risk of tornadoes will increase overnight as a warm front gradually moves northward across our region. This risk will extend into Thursday.
LEVEL 1 (OUT OF 5) SEVERE WEATHER RISK FOR ENTIRE LOCAL AREA… The Storm Prediction Center now includes ALL of the southern half of Alabama and all of northwest Florida in their Level 1 (out of 5) marginal severe weather risk, primarily driven by a chance of a few, brief tornadoes. This risk includes all parts of the following counties. If you live in ANY part of any of these counties, you're included in this risk zone starting early Thursday morning: Washington (AL), Clarke, Monroe, Wilcox, Choctaw, Marengo, Conecuh, Butler, Covington, Crenshaw, Escambia (AL), Baldwin, Mobile, Lowndes, Montgomery, Pike, Barbour, Coffee, Dale, Henry, Houston, Geneva, Escambia (FL), Santa Rosa, Okaloosa, Walton, Holmes, Washington (FL), Jackson, Calhoun, Bay, and Gulf counties.
TIMING – TORNADO RISK OVERNIGHT INTO THURSDAY… Tornadoes will become possible overnight with the risk extending into the daytime hours on Thursday. The overall tornado risk for south Alabama and northwest Florida will extend from 4AM to 4PM Thursday, with the core risk being from 7AM to 1PM.
TORNADO WATCH TO OUR WEST THIS EVENING… A Tornado Watch is in effect this evening until 10PM for parts of Louisiana and southwest Mississippi. Baton Rouge and McComb are two of the larger locales involved. We've already had multiple tornado warnings happen in this area as the core of the remnants of Beta moves northeast. More tornadoes will be possible in the hours ahead to our west in this zone. A new Tornado Watch may be needed for southern Mississippi and southwest Alabama overnight or on Thursday morning.
TORNADO RISK ENDS FROM WEST TO EAST ON THURSDAY… The tornado risk across our local area will gradually come to an end from west to east as the remnant circulation center of former Tropical Storm Beta continues to move northeast. The better tornado dynamics will begin to lift away from our area midday as the atmosphere locally becomes increasingly unstable due to daytime heating. This "mismatch of severe weather ingredients" is the reason this tornado threat is not more pronounced.
TORNADO WARNING POLICY… Any time there is an active tornado warning in effect for southwest Alabama or northwest Florida, we provide uninterrupted, live video coverage on Facebook Live and in the RedZone Weather app. Our detailed coverage commitment is outlined at redzoneweather.com/coverage. We are proud to cover all parts of Escambia (AL), Covington, Monroe, Conecuh, Baldwin, Mobile, Clarke, Washington, Butler, Escambia (FL), Santa Rosa, and Okaloosa counties. If you live in any locale in those counties, be sure to tune into our coverage whenever there is an active tornado warning!
SET UP APP ALERTS… We send quite a bit of Low-Level Alerts in our RedZone Weather app. The app is totally free for you! redzoneweather.com/app is the link where you see the download links to your respective app store for iOS and for Android devices. Once you have the app downloaded to your smartphone or tablet device, be sure to visit the Alerts tab to customize the alerts you would like to receive straight from me.
I will have another detailed video update posted by 7:15AM on Thursday with the very latest on this developing severe weather situation UNLESS uninterrupted live tornado warning coverage is required before that. Have a great Wednesday evening!