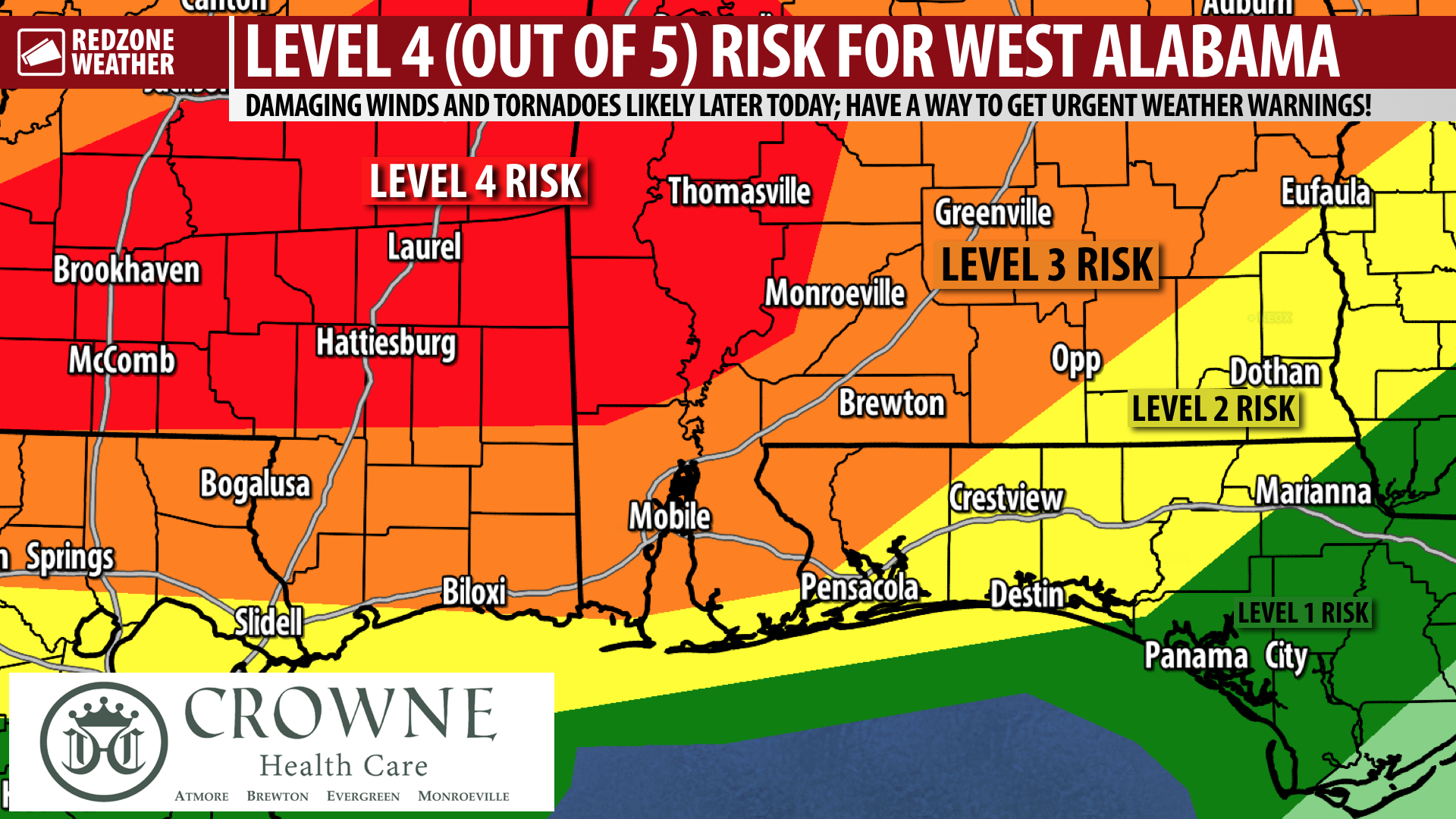 UPGRADE: LEVEL 4 (OUT OF 5) SEVERE WEATHER RISK FOR WEST ALABAMA… The Storm Prediction Center has upgraded parts of west Alabama and Mississippi into their Level 4 (out of 5) significant severe weather risk valid for this afternoon into this evening. This higher risk zone is driven by an increased risk of damaging straight line winds expected to develop later today in an intense line of thunderstorms that will move from northwest to southeast across our entire region. In addition, tornadoes will be possible across the area this afternoon into this evening. Please have a way to get urgent weather warnings through tonight! As always, if and when we have tornado warnings, be sure to join me on Facebook Live for the very latest information.
Regardless of which risk zone you are in, it is important to keep in mind that we ALL have a severe weather risk this afternoon into this evening!
LEVEL 4 (OUT OF 5) RISK IN WEST ALABAMA… A Level 4 (out of 5) risk means that widespread severe thunderstorms are likely with a chance for a few long-lived, and potentially intense thunderstorms. Locally, this Level 4 (out of 5) risk is in place for communities like Thomasville, Grove Hill, Jackson, Chatom, Millry, Wagerville, McIntosh, Vinegar Bend, Deer Park, Malcolm, Sunflower, Toddtown, Coffeeville, Salitpa, Whatley, Gainestown, Scyrene, Fulton, Springfield, Sandflat, and Campbell. Just north of our local area, we also note that several areas in west-central Alabama are involved in this slightly higher Level 4 risk, including Pine Hill, Millers Ferry, Yellow Bluff, Sweet Water, Linden, Demopolis, Butler, Silas, Toxey, Gilbertown, Livingston, and surrounding areas.
LEVEL 3 (OUT OF 5) RISK EXPANDED… The Level 3 (out of 5) risk has also been expanded as of Noon. A Level 3 risk means that numerous severe storms are likely, including a chance for a few intense storms. The Level 3 risk now includes Mobile, Prichard, Saraland, Wilmer, Bayou La Batre, Daphne, Fairhope, Spanish Fort, Loxley, Bay Minette, Stockton, Tensaw, Perdido, Brewton, Atmore, Flomaton, Poarch, Pineview, Huxford, Damascus, Molino, Century, Bratt, Jay, Chumuckla, Berrydale, Andalusia, Opp, Carolina, Florala, Babbie, Straughn, Red Level, Greenville, Georgiana, McKenzie, Forest Home, Evergreen, Castleberry, Lenox, Repton, Range, Owassa, Lyeffion, Monroeville, Tunnel Springs, Beatrice, Uriah, Excel, Frisco City, and surrounding areas.
LEVEL 2 RISK CLOSER TO COAST… A Level 2 (out of 5) risk is the standard, slight risk where scattered severe storms may happen. This includes places like Pensacola, Orange Beach, Gulf Shores, Foley, Dauphin Island, Warrington, Gulf Breeze, Pensacola Beach, Milton, Pace, Navarre, Crestview, Laurel Hill, Destin, Fort Walton Beach, Niceville, and Mary Esther.
TORNADO WARNING POLICY… Any time there is an active tornado warning in effect for southwest Alabama or northwest Florida, we provide uninterrupted, live video coverage on Facebook Live and in the RedZone Weather app. Our detailed coverage commitment is outlined at redzoneweather.com/coverage. We are proud to cover all parts of Escambia (AL), Covington, Monroe, Conecuh, Baldwin, Mobile, Clarke, Washington, Butler, Escambia (FL), Santa Rosa, and Okaloosa counties. If you live in any locale in those counties, be sure to tune into our coverage whenever there is an active tornado warning!
SET UP APP ALERTS… We send quite a bit of Low-Level Alerts in our RedZone Weather app. The app is totally free for you! redzoneweather.com/app is the link where you see the download links to your respective app store for iOS and for Android devices. Once you have the app downloaded to your smartphone or tablet device, be sure to visit the Alerts tab to customize the alerts you would like to receive straight from me.
I will have more updates over the next few hours posted in the RedZone Weather app. Join me on Facebook Live if and when we have tornado warnings later today. Have a good afternoon!