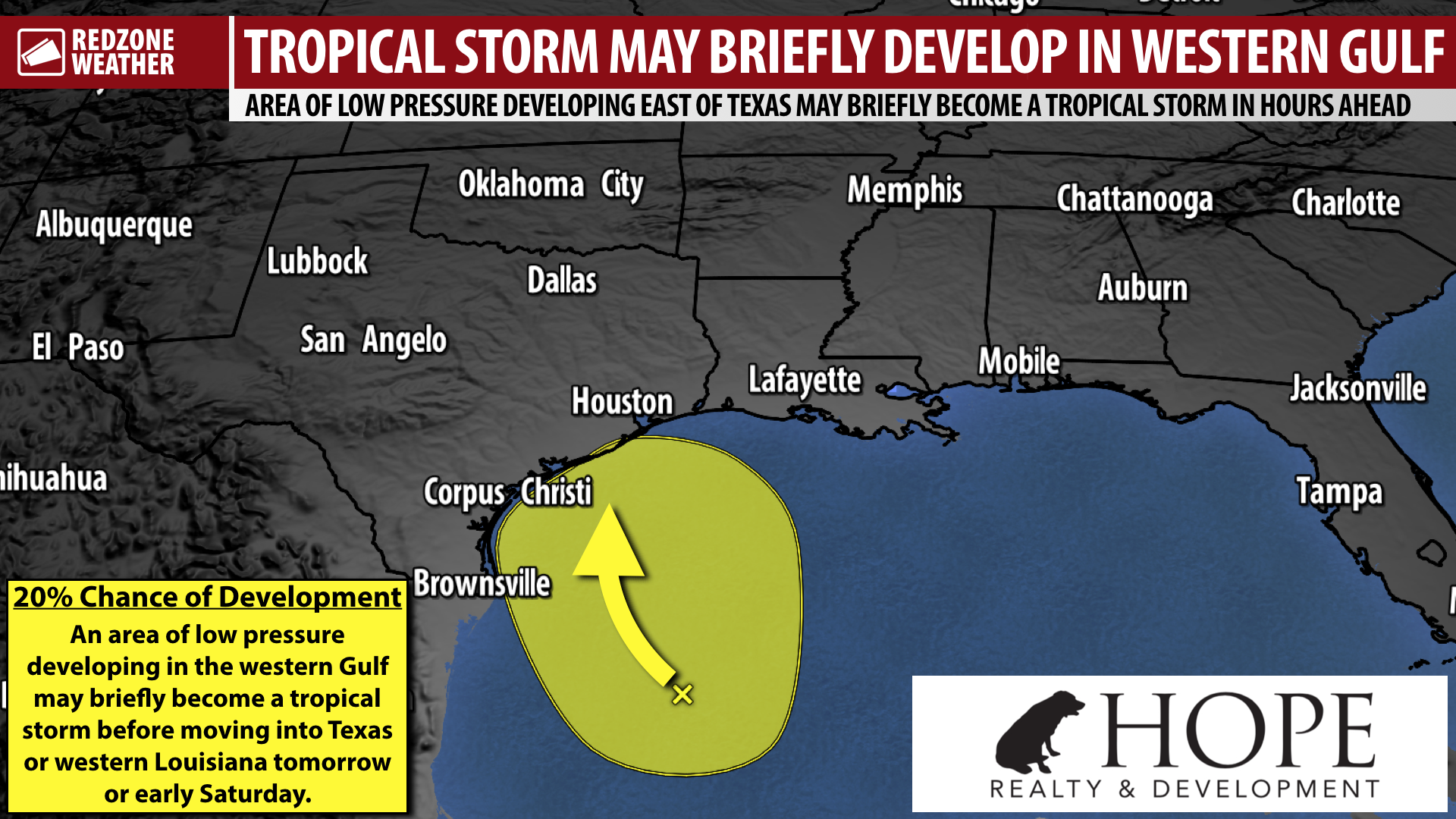 TROPICAL DEVELOPMENT POSSIBLE IN WESTERN GULF IN HOURS AHEAD… Showers and thunderstorms currently happening over the western Gulf of Mexico may organize briefly into a tropical storm over the next 24-48 hours before the system moves into Texas or southwestern Louisiana tomorrow evening or Saturday. The National Hurricane Center has flagged this area with a 20% chance of development this evening. While this system will be a big rainmaker for parts of Louisiana and Texas, regardless of if formal development happens, direct local impacts in south Alabama and northwest Florida from this system are NOT expected.
90% CHANCE OF TROPICAL DEVELOPMENT NEAR BERMUDA… Odds are high that a named subtropical storm will form near Bermuda over the next few days. NHC gives this system a 90% chance of becoming a named storm over the next 5 days. From NHC: "A non-tropical low pressure area located about 625 miles east-northeast of Bermuda is forecast to strengthen into a storm-force low pressure system tonight. On Friday, the low is expected to turn west-southwestward over warmer waters and will likely become a subtropical cyclone near and to the northeast of Bermuda. After that time, the low is forecast to move northward and northeastward into a more hostile environment by Saturday night or Sunday.
QUICKLY ACTIVE IN THE TROPICS… We went from completely quiet to notably active with two potential areas of concern, one in the western Gulf, the other in the north Atlantic Ocean. While neither of these systems will ever directly affect south Alabama or northwest Florida, this is a good "practice round" for our area in that sometimes you can get developments in the tropics very quickly. NOW is the time to prepare for hurricane season, knowing your plan of action in case a storm threatens our local area.
MOSTLY SUNNY & WARM ON FRIDAY… Temperatures will rise into the mid- to upper-80s across inland areas of south Alabama on Friday with low- to mid-80s likely at the immediate beach zones of Alabama and northwest Florida. Mostly sunny skies are expected Friday and into the weekend.
APP ALERTS… redzoneweather.com/app is the link where you can download the free RedZone Weather app. We post brief updates throughout each day in the app, keeping you up-to-date about the latest happenings in weather across south Alabama and northwest Florida. Once you have the free app downloaded to your iOS or Android device, be sure to visit the Alerts tab (lower right corner) then tap the large, yellow Alert Settings button to customize the alerts you would like to receive straight from me.
I will have your next full forecast video posted by 7:15AM on Friday. Have a nice Thursday evening!